For hospitals, clinics, labs, and other healthcare facilities, properly managing regulated medical waste is a top priority. Failures in hazardous waste handling can put staff, patients, and the public at risk of exposure or contamination. That's why implementing rigorous cradle to grave tracking procedures for your medical waste streams is so important.
As an environmental consultant specialized in medical and biohazard waste for over 20 years, I guide healthcare clients through every aspect of compliant cradle to grave systems. In this guide, I'll explain what cradle to grave is, why it's critical for your facility, and how to effectively track medical waste from generation to disposal.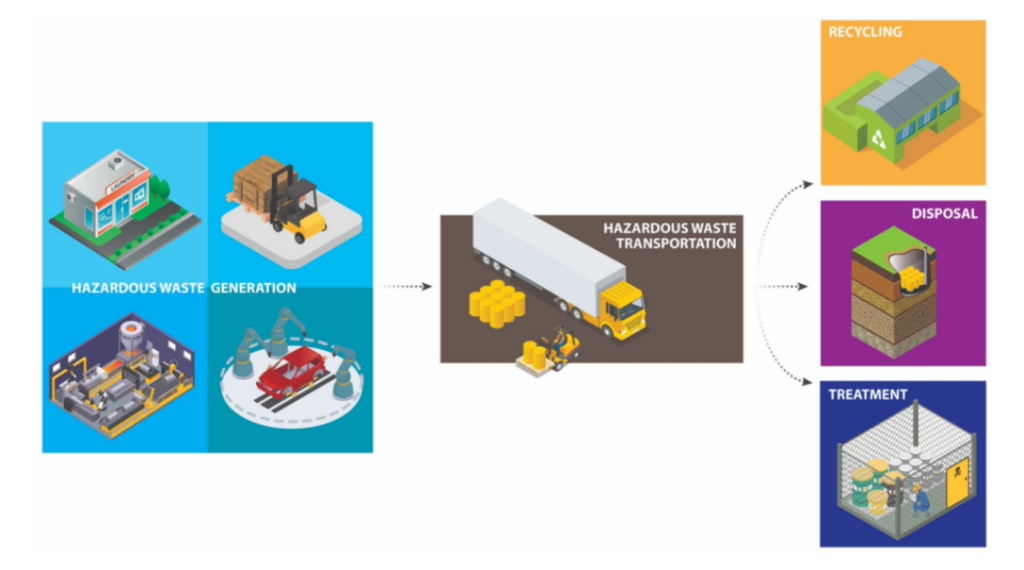 Credit: EPA.gov
Understanding Cradle to Grave Medical Waste Tracking
Cradle to grave refers to closely monitoring hazardous waste from the point of generation to its final fate. The key stages include:
Generation - When infectious, radioactive, or hazardous waste is produced during diagnosis, treatment, or operations.
Segregation - Separating waste into proper categories immediately at the source.
Storage - Containing regulated medical waste securely prior to treatment.
Transport - Shipping hazardous wastes offsite using stringent procedures.
Treatment - Sterilization, incineration, autoclaving, and other methods to reduce hazards.
Disposal - Depositing treated medical waste at permitted hazardous waste landfills.
Thoroughly documenting and tracking each step ensures safe management protecting human health and the environment.
Why Cradle to Grave Tracking Matters for Healthcare
Medical facilities must adhere to federal and state laws that mandate cradle to grave tracking for hazardous wastes. Key regulations include:
RCRA - The Resource Conservation and Recovery Act establishes national cradle to grave standards for biohazards.
OSHA Bloodborne Pathogens Standard - Details requirements for managing contaminated waste containing bodily fluids.
DOT Shipping Regulations - Transportation rules for medical waste shipment on public roads.
Deviation from these regulations through waste mismanagement can result in fines over $25,000 per day along with negative publicity.
Hazardous Waste Streams Requiring Cradle to Grave Procedures
While all your facility's waste should be responsibly handled, key streams requiring rigorous cradle to grave tracking include:
Infectious wastes - anything contaminated with pathogens like bodily fluids, tissues, laboratory samples
Pharmaceutical wastes - unused medications, IV bags, vials
Radioactive wastes - liquids, papers, protective equipment exposed to nuclear medicine
Pathological wastes - human tissues or body parts requiring incineration
Sharps - syringes, needles, and other devices capable of causing cuts or puncture wounds
Implementing Robust Medical Waste Tracking
Maintaining cradle to grave chain of custody documentation for hazardous medical waste should include:
Waste labeling - using biohazard symbol bags and containers indicating contents.
Manifest forms - documenting the quantity, type, and destination of waste for offsite shipping.
Record retention - keeping tracking records for at least 3 years.
Personnel training - educating staff handling waste on proper segregation, handling, documentation.
Emergency procedures - responding to spills, inadvertent radiation exposure, other incidents.
Compliance audits - regularly assessing cradle to grave program effectiveness.
Partnering for Cradle to Grave Success
With both patient safety and regulatory compliance on the line, healthcare organizations need to get cradle to grave right. My team can work with you to design and implement a customized medical waste tracking program meeting the needs of your facility while following strict state and federal regulations. Reach out today to get started improving your hazardous waste management.